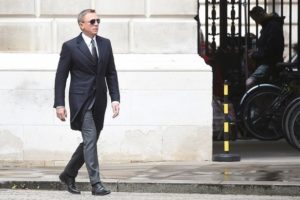 Sleek and suave, sexy and smart– that is the brand of manliness that James Bond is known for. It is the ideal gentleman, a benchmark for men who wish to achieve the same effect and impact. Now, if you are interested in looking as sophisticated as the 007 agent, you absolutely need to invest in the following items and make sure they're readily available in your wardrobe.
Tailor-made suits – James Bond doesn't just wear any suit – he wears bespoke ones. Like with the moving Kingsman: The Secret Service, a gentleman is portrayed as someone who wants and deserves only the finest, and this applies to suits. Bespoke suits are specifically designed and sewn for a client. Each detail and cut is made to fit the client's physique and to meet their unique style preferences.
A good fashion advisor for men would advise you to make tailored suits a staple in your wardrobe, whether you want to look like James Bond or not. Bespoke suits are the "It" item for men, especially for formal occasions and black-tie events.
Ties/bowties – To complete your whole gentleman ensemble, pairing it with a tie or bowtie is a must. Invest in different colours, styles, and prints to make sure you have the perfect one for every suit. There is no solid rule for choosing ties, but the general guideline is if you're wearing a light-colored suit, your tie should be darker. On the other hand, if you're wearing a dark suit, the tie should be a lighter shade. If your suit is plain, then it'll be better to choose a tie with prints or patterns. Though choosing a similarly plain tie will also do.
Cufflinks – Cufflinks are the small details that enhance the classic gentleman attire. These can make any dress shirt look ten times more expensive. In addition, they can serve as a fashion statement. Cufflinks can be made from gold, silver, and other precious metals. Some also include precious stones and even pearls. If you are thinking of a gift for your man, personalised cufflinks with your initials are a great idea!
Shoes – Bespoke leather shoes or Italian handstitched shoes are the ideal options for completing your James Bond look. Leather is the most recommended materials because it exudes timeless class and sophistication. If you want to know or read more about why bespoke makes the difference, simply click the link.
Belts – A belt is another accessory that you should always have in your wardrobe. More so, if you're going for the gentlemanly look. Like with neckties, you should have plenty of options for belts – colours, design, materials, and styles. This allows you to mix and match and always have something to complete your suit. As much as possible, make sure the color of your belt matches your shoes.
Watches – A signature timepiece can further enhance your gentleman look. Make sure to invest in a brand is known in the industry as a high-end maker of timepieces: Patek Philippe, Bulgari, Rolex and Tag Heuer. The key here is to invest in high-quality. Though it comes with a hefty price tag, such watches are a great investment as you can use it for years to come.